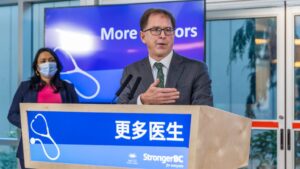 In a move to address the doctor shortage, the B.C. government is speeding up the process to allow internationally-trained doctors to begin practicing in the province.
Premier David Eby says the pandemic has "exposed" challenges to B.C's healthcare system, and "too many" British Columbians are having trouble finding a family doctor.
"Family doctors trained outside of Canada aren't able to practise family medicine, because they lack a pathway to be licensed here," he said at the announcement Sunday.
"We need to fix this. That's why we're taking action to help get more internationally trained doctors off the sidelines and into communities where they are so desperately needed."
Part of the plan is to expand the Practice Ready Assessment, which is the path for internationally trained doctors to get their license in B.C. Over the next 16 months, the province says the program will be expanded from 32 seats a year, to 96.
"This simply allows us to welcome more internationally trained physicians who have completed their residency in family medicine outside of Canada," said Minister of Health, Adrian Dix.
The minister says 4,451 international medical graduates are doing their residency in B.C., 2,570 of whom are family doctors.
As part of the announcement, internationally-trained doctors will also be able to work as associate physicians underneath a licensed doctor in community settings. That change will come from the College of Physicians and Surgeons of BC (CPSB) and is expected to take effect in the coming weeks.
CEO of the CPSB, Dr. Heidi M. Oetter, says the move offers an alternate route for international doctors who are otherwise not eligible to practice in B.C.
"We are also pleased to work with the Ministry of Health to develop a structure that enables associate physicians to work in community primary care settings and to seek additional innovative, sustainable solutions to address B.C.'s health human resourcing challenges," she said.
President of Doctors of BC, Dr. Ramneek Dosanjh, says the organization has long advocated for allowing easier access for international doctors.
"We are pleased that the provincial government is making it easier for more U.S. and internationally trained family doctors to come to British Columbia and practise," she said in a statement. "Given the challenges in our primary care system and the number of patients without a family doctor, these changes will greatly benefit British Columbians."
All the measures announced stem from the B.C. government's Health Human Resources Strategy laid out in September, which included 70 "key actions" to recruit, train and retain healthcare workers.
Posted Nov 27, 2022, 12:45PM PST.
Last Updated Nov 27, 2022, 9:38PM PST.